Grinnell Site Recognized As An Iowa Certified Site
December 19, 2016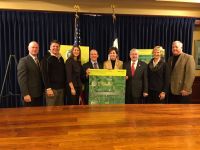 December 19, 2016 – DES MOINES Today, Governor Terry Branstad and Lt. Governor Kim Reynolds announced five additional industrial sites to achieve certification through the Iowa Economic Development Authority (IEDA) certified site program. A Grinnell site was among the five. The other sites certified are located in Forest City, Waterloo, Osage and Clinton

Category: General Industrial Site
Brownells Business Park
Grinnell, Iowa
184 Developable Acres

In an effort to address the lack of project-ready industrial sites in the state, the IEDA rolled out the Iowa Certified Site Program in May 2012. It is an independent, third-party certification program that uses the nationally recognized site selection firm of McCallum Sweeney Consulting (MSC) as the sole certifying agent. The Iowa Certified Site Program is designed to consider a combination of national site location standards as well as Iowa's natural assets and industry needs of the state's targeted sectors.

"These five additional sites give Iowa – and your community – an advantage when it comes to growing our state's economy," said Gov. Branstad. "The Communities have gone through a rigorous process to become certified and should be proud of what they have accomplished. Each site being 'development-ready' means more projects coming to Iowa and, in turn, more jobs."

Site certification is one of the fastest growing trends in the site selection business, and by introducing certified sites to the market Iowa is better able to compete for large scale projects. By going through this rigorous process, developers -- working closely with their local officials, utility partners and consultants -- are better prepared to market their sites with specific site-related information and community data. All site due diligence is completed and resulting issues are mitigated, making the site "risk-free" and thus accelerating the development schedule.

Seven subsequent application rounds have been opened since the program was established with additional sites are currently working their way through various phases of the program. The next round of applications will be accepted in January for the following categories:

General Industrial Site -- 50 - 249 contiguous acres
Large Site -- 250 – 499 contiguous acres
Super Site -- 500 – 999 contiguous acres
Mega Site -- 1,000+ contiguous acres
General Industrial Park -- 100+ acres with one site ≥ 20 acres
Super Park -- 500+ acres with one site ≥ 100 acres

For more information about the Iowa Certified Site Program, visit www.iowaeconomicdevelopment.com/SiteLocation/CertifiedSite.